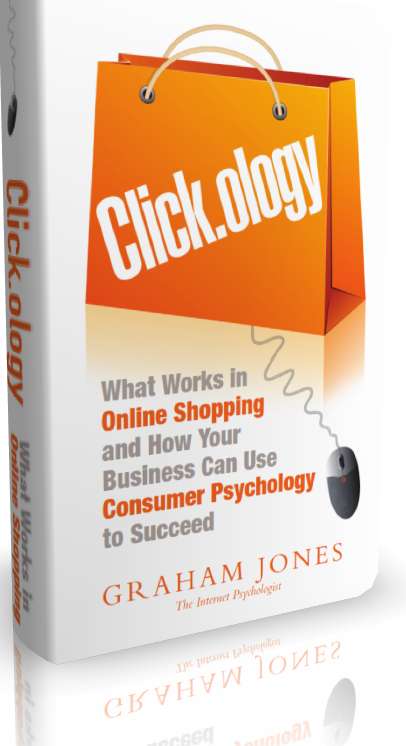 How Your Business Can Use
Consumer Psychology to Succeed
[button link="http://www.amazon.co.uk/gp/product/1857886046/ref=as_li_ss_tl?ie=UTF8&camp=1634&creative=19450&creativeASIN=1857886046&linkCode=as2&tag=grahamjones" color="orange" window="yes"]Click Here To Buy The Book Now – £12.99[/button]
The world of shopping is at a crossroads. While online sales are growing at runaway speed, many businesses are finding themselves left behind, discovering that what has worked so long in offline does not work online, and what works online does not necessarily translate offline: it simply doesn't "click".
Packed with tips, guidance and real-world case studies – from online niche stores Bellabox and Facetache to the universal appeal of Groupon, and from offline discount stores Dollar Tree and Poundland to the luxury Selfridges – in this informative book internet psychologist Graham Jones reveals:
* Why most online shopping carts are abandoned before a purchase is ever made
* Why having a centrally positioned "search box" aids navigation and increases sales
* Why offering free shipping online pays off
* Why it makes sense to be sociable
He also reveals the "why" of consumer behavior online, how it differs from offline behavior, and how you can use this understanding to create a store that connects with and engages your customers on both a practical and a psychological level – a store that demonstrates true click.ology.
Using an accessible five-step CLICK system for turning clicks into dollars, the book shows how to learn from the experience of both on- and offline, and apply lessons to both. Whether you're running a small business website or that of a big corporation, whether you're operating purely online or offline too, Click.ology shows how you can thrive in a dynamic retail world.